Basom Consulting
About Us
We are Basom Consulting, We
Create
Build
Develop
Solutions
BASOM Consulting is an IT services company specialized in audit, consulting, IT managed services and Cloud hosting.

With over 20 years of experience with key accounts, BASOM Consulting is active in several public and private sectors: ministries, hotel chains, publishing houses, legal professions, public transport, banking and insurance, industries ...

Since its establishment, BASOM Consulting provide to its customers reliable, efficient and sustainable solutions. Our reliability and high quality of service have allowed us to gain a long-standing confidence of prestigious clients. We always take into consideration all constraints related to your business in our recommendations.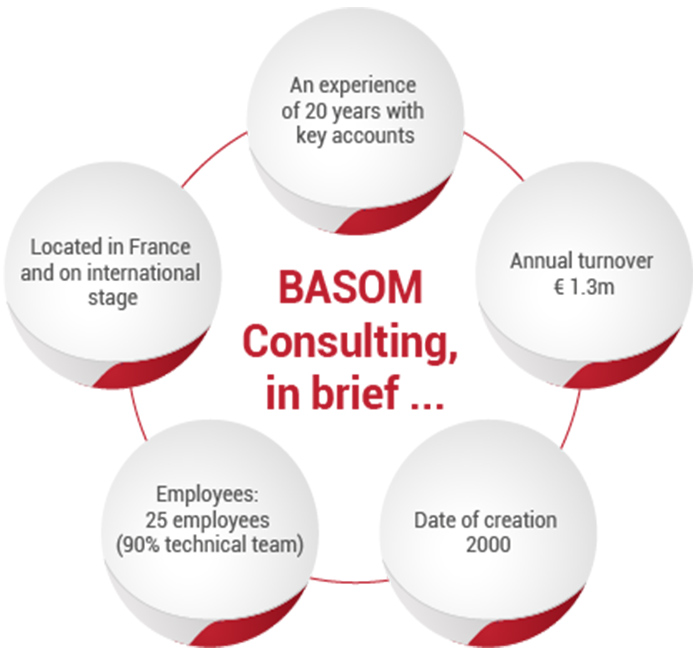 Our Strenghts
Expertise, responsiveness, availability, flexibility, confidence and transparency are the true pillars of our success with our customers.
EXPERTISE
Thanks to the high level of expertise of our team specialized in security, systems and computer networks, we study and implement the best solutions to our customers.
RESPONSIVENESS
We are a human-sized company comprising high-potential engineering talents who are guaranteeing an unequalled responsiveness. Every request is taken into consideration with serious involvement.
AVAILABILITY
Depending on the size of your project, a dedicated consultant will work closely with your team.
FLEXIBILITY
Our flexibility is expressed through our customer-oriented consultants as well as in our offers which have a wide range of services tailored to meet specific needs of each business.
CONFIDENCE
Since day one, we have made a deep commitment to build up a solid and long lasting relationship based on mutual trust with all our customers and partners.
TRANSPARENCY
We always strive to create transparent and long lasting business relationship with our customers and partners.
Our Team
BASOM Consulting has 25 highly-skilled and experienced employees (90% technical team).